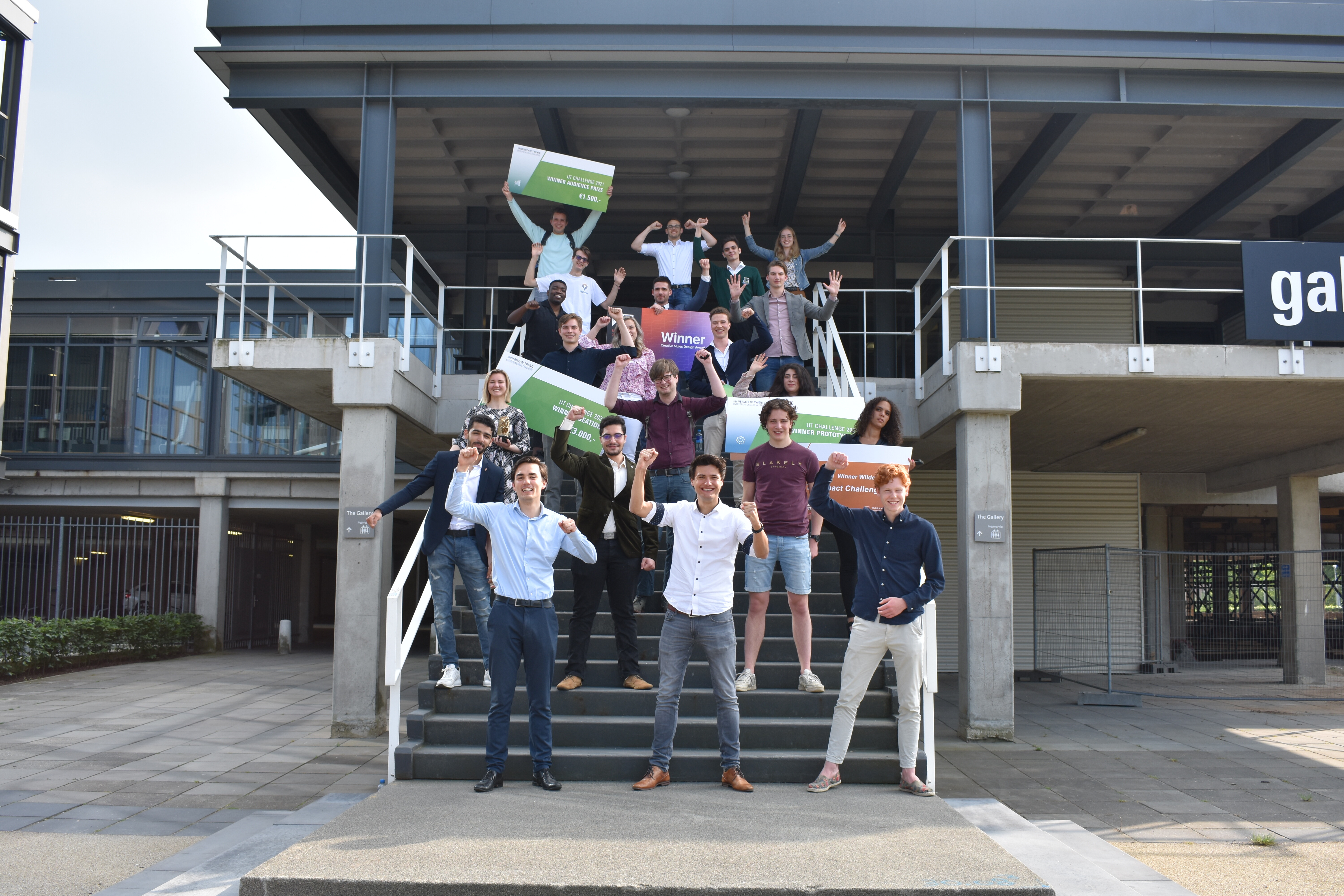 Flux Robotics, Ibilight and Clever Worker are the winners of the fifth edition of the UT Entrepreneurial Challenge. They respectively won the Startup, Prototyping and Ideation awards after a sizzling finale on June 8. With over 800 simultaneous viewers joining online.
Other awards during the finale in the Waaier included Streepn. They won the hearts of many viewers and received the Audience Prize from host Mike Verkouter and co-host Thyne Scholte. Flawless Workflow and Ibilight were chosen as winners of the 4TU Impact Challenge Wildcards and secured a ticket for Slush 2021 in Helsinki. The ASML Makers Award went to Lifelong Learning Lab. Business Partner Creative Mules awarded their Branding Packages to medical innovations Joint-on-Chip and again Flux Robotics.
The UT Entrepreneurial Challenge is an innovation and entrepreneurial competition aimed at all University of Twente students. With the help of coaching from business partners, workshops and an online speed dating event, the participants took their project to the next level.
The fifth edition of UT Entrepreneurial Challenge can once again proudly be called a great success. With a record number of 90 projects in three categories, by hundreds of students from dozens of educations and diverse backgrounds and motivations. Throughout the timeline from the Kick-off event in March to the finals in june, they showed why University of Twente has a good reputation for entrepreneurship and innovation.
The awards were presented by Prof. Bart Nieuwenhuis (BMS/ETM), Dr. Rainer Harms (BMS/ETM), Miriam Iliohan (DesignLab) and Lea Milovich (Novel-T). This year's finale took place in a hybrid format, with one delegate per finalist, the jury chairmen and some invited guests physically present.